The BEST is yet to come! This is something that we have been praying over for years.....since our little Bean was born really.  A CURE!  Yes....we are close! SO SO CLOSE!!! THe advancements in medicine are tremendous! We are hopeful that a cure for this awful disease is around the corner. In the mean time, we LIVE! We chase sunshine. We laugh. We love.  We take each day as it comes. It's the easiest way to approach each day when the effects of this disease change daily for our little fighter.  
We have been busy over the last few years healing and growing stronger. Delaney is doing extremely well with maintaining a strong baseline. Her lung function has fluctuated over the last few years as she has battled some infections and viruses but our Bean is a fighter.  She faced her first admission for a "tune up" in 2017.  It was a rough two weeks of a long hospital stay, non stop medications and treaments and then continued medications and nurse visits at home.  We are very fortunate that it was just this....two weeks. I have a new level of compassion and heartache for the families and other fighters that endure weeks and months of illness. Its awful. There are no real words other than that.
Delaney has taken to gymnastics and competes at a local level with a gym in the area.  She really enjoys it and has her fair share of medals and ribbons!  We are the proud owners of several pieces of gymnastics equiptment that take up the floor space in the basement.  There is a list of things to add to it as well according to Bean.  This little one has the strongest desire to be GOOD. She is a very driven little person. She works incredibly hard at perfecting her skills and we have no doubt that she will continue to grow stronger if she sticks with it.  Staying active has certainly helped Bean fight the "cobwebs". She is incredibly strong and fit.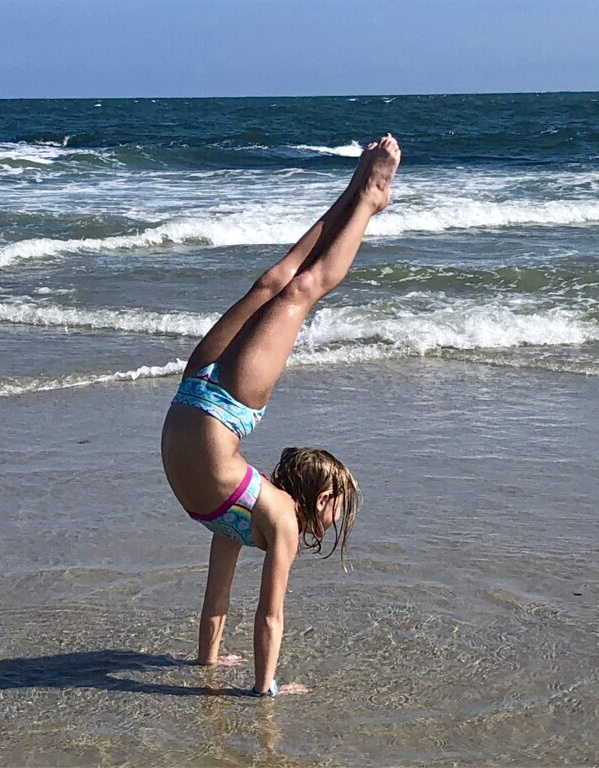 We are finally preparing for our 2019 event----The CHUG n CHEW! This event was started back when Delaney was born but took a back seat for a while as I fought a battle myself. Four brain and cervical surgeries later, I am feeling well enough to tackle the CHUG again. Our hope is to continue to raise funding and provide a generous donation to the Cystic Fibrosis Center at the Childrens Hopsital of Philadelphia.  The Center is a crutial part of Delaney and so many other patients survival. The teams of doctors, nurses, social workers and administrative staff that help the patients and families endure countless appointments and admissions is admirable.  Without these special people, fighting this battle would be impossible.   Our goal is to provide the center with funding to support the patients and families of those battling Cystic Fibrosis. Whether it is to provide comfort while patients are admitted or resources for familes to aid in recieving medication, H4D is hopeful that with the generosity of the community, we can help each day be a little better for those that fight so hard every day.  
We are looking forward to some healthy months ahead and PRAYING for a cure! If you are interested in supporting H4D or attending the CHUG, feel free to reach out. We'd love to have your support! 
XO-
Jil
Categories: None