So many of you know me by now......im emotional. Especially when it comes to my girls.  Delaney tends to draw different emotion from me however considering what we have been thru, continue to go thru and what is yet to come.
The day finally came.....KINDERGARTEN. Now, Bean has been watching her big sister Riley head off to catholic school for the last 4 years. You would of thought she would be okay with the whole uniform idea.......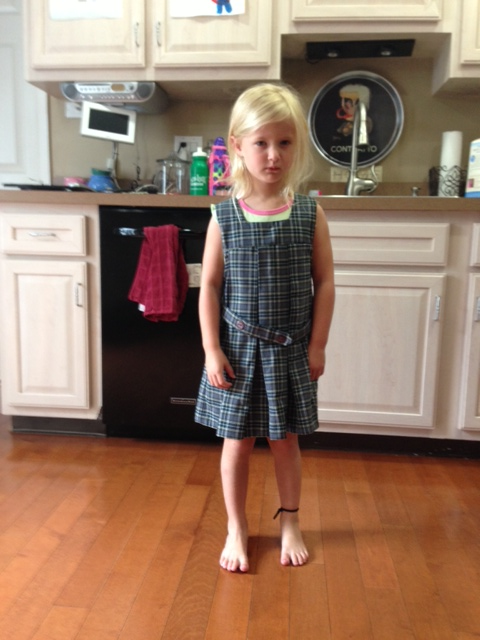 So that was early August.....she must of just been in a mood because she had been SOOOO excited to be in school and "make new friends".
The first day comes and of coarse, I am emotional....hiding behind my sunglasses the entire time. Our little Bean walked up to her school like the bravest little warrior I have ever seen. Baring a gigantic smile and giving mommy and daddy a few kisses and hugs, she waved excitedly as she walked into the beginning phase of her new little life.
(this is when mommy hid behind a shrub on the playground and sobbed....then went to Mass, and cried the entire time....pathetic, I know.)
We have been so worried about keeping our feisty, excited little ball of fire SAFE for so long and now was the day when mommy had to step away and trust that everything was going to be okay. I have feared this day for five years and here it was, staring right at me. I continue to worry everyday about her.  Is she taking her enzymes the way she should, is she around sick kids, doesn't she remember to wash hands and cover her cough.....everything you can think of, I have thought of 100 times already.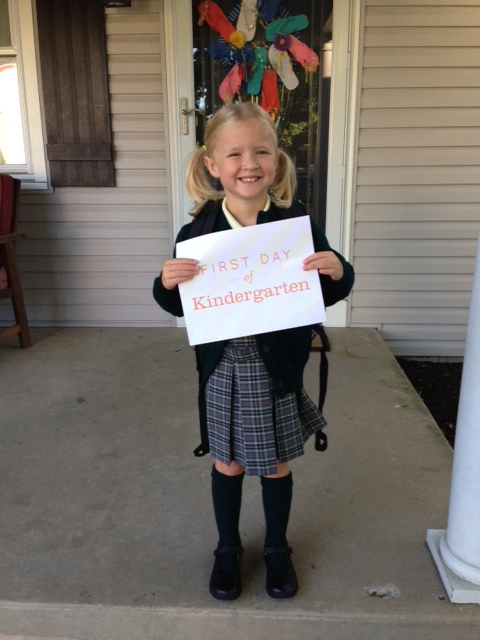 As the first week of school comes to an end, I am seeing a little change in myself. I see that brilliant little girl, jumping up and down, waving at me, giving me a thumbs up when they walk out in line for dismissal. She is SO happy. having her run into my arms and tell me that her day was awesome and she had a great day is comforting. YES, our Bean is a fighter. She loves life and fills everyday with that contagious laughter. God, please keep her here to share this gift of happiness with all that come into her life. (and help mommy cope with being alone for 6.5 hours a day...)
For now we will "keep on rockin' momma!" as Bean has now said to me every morning we walk out the door to face what the world may have in store for us.
Feel free to look at a few more pictures we posted from that day in the PHOTOS section of the site. There are others, but I need to stop crying when I see them in order for me to actually post them ......again, pathetic...
Keep Rockin' Everyone!!
XOXO-
Jilian
Bean's Mommy
Categories: None